October 22, 2020 at 3:34 pm
#9068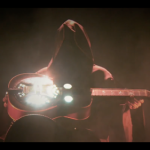 Rob Ickes
Participant
::
Hi Y'all-I found this old live recording recently, and I thought you might enjoy it. It was given to me many years ago, I listened to it a million times when I was a kid…This is from a band that played periodically, with different members, but it was always based around Peter Rowan and his music. The band on this show is Peter Rowan, Stuart Duncan, Jerry Douglas, Sam Bush, Bela Fleck and Roy Huskey Jr.
I think this set is from the early 1980's and features great singing and playing from all these guys. I've heard that this was Stuart Duncan's first time playing with this group and I am always amazed how he just fit right in and went "toe to toe" with all these masters.  I think Stuart had not even moved to Nashville yet, he was playing with Larry Sparks and living in Kentucky. Jerry Douglas plays some amazing stuff also, I'm very partial to the sound he was getting at this time period, I'm pretty sure he's playing his RQ Jones Resophonic Guitar, love that guitar! I like Bela's playing on this also, he sounds like he was listening to a lot of JD Crowe and really "mashing" on it!
The sound quality of this recording is not pristine by any means, but the mixes are actually great.  So if you can put up with the tape hiss and other noises, I think you'll really enjoy this set of music.