November 20, 2019 at 4:03 am
#6248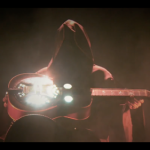 Rob Ickes
Participant
::
Hi Jake,
I've been using the TKL case for several years now, really like it. Lightweight and looks great…
I used to have a Calton- a great case, but they are too heavy to carry around on the road…
If I think I might have to check my guitar, I will loosen the tension on the strings also.
I had a small screwdriver confiscated once on an international flight, but it is usually not a problem for me.
#1 TRAVEL TIP FROM ME-Fly Southwest Airlines!! Why?
-all their planes are 737's , so you know your guitar will ALWAYS fit in the overhead baggage compartment.
-if you do "early bird" ticketing, you usually get in "A" or "B" group. This means you board the plane first and there's usually still plenty of space to put your guitar in the overhead compartment.
-the boarding process is simple and by number, so there is no confusion about when you will board. The other airlines seem to have a random boarding process which means you're never quite certain when you will board and if they will have room for your guitar.
-other airlines often treat you poorly when you have an instrument to carry on. I have never been treated poorly while flying Southwest Airlines.